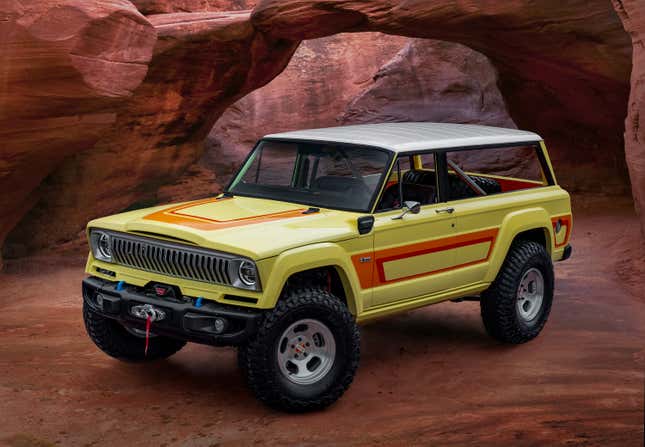 It's springtime, and for Jeep fans, that can only mean two things: The 57th Easter Jeep Safari in Moab, Utah, is right around the corner, and Jeep has a bunch of rad concept 4x4s to show off at said event. Jeep has been building show trucks for EJS for years, and the 2023 crop of seven custom rigs might be Jeep's best showing yet.

In case you missed it:
Jeep Wrangler Magneto 3.0 Concept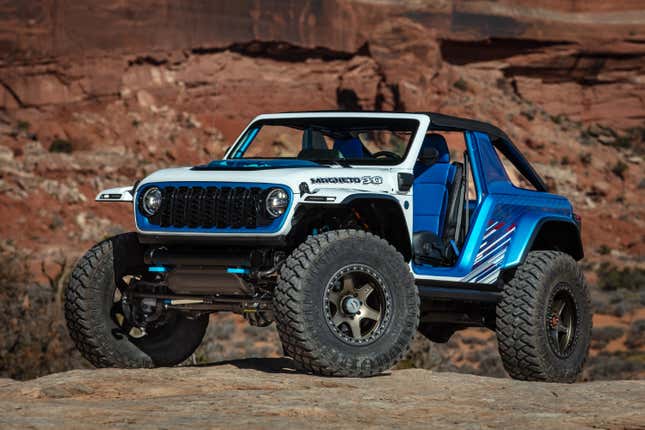 This is the third all-electric Wrangler-based concept Jeep has built for EJS, and it's a ripper: The EV concept makes up to 650 hp and 900 lb-ft of torque. All that power flows to the axles through a six-speed manual transmission — an unusual choice for an EV, especially one with enough torque that, assumedly, it could easily get up and go from a stop in sixth gear.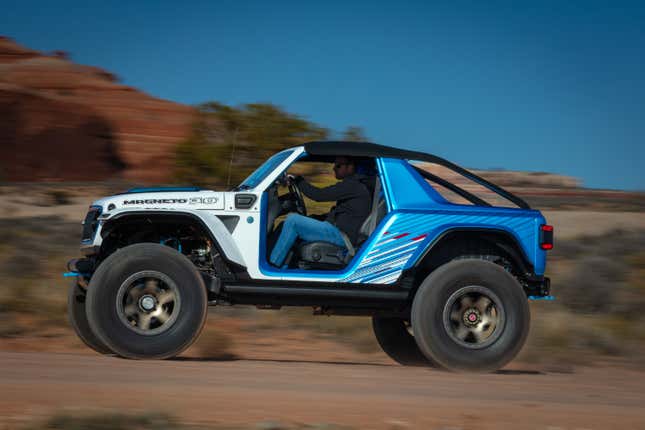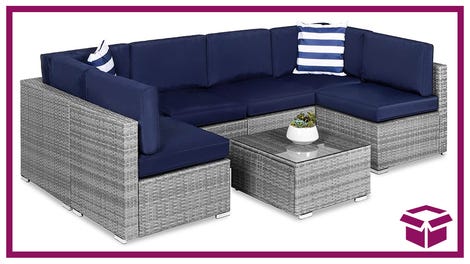 Save 33%
$300 off Outdoor Furniture Set on Amazon
Magneto 3.0's hot-rod proportions come from a bunch of subtle bodywork changes: The door opening kicks back an additional six inches versus stock, the windshield has been laid back, and the front fenders were stretched rearward. The silent rock-crawler sits on 40-inch tires mounted to 20-inch beadlock wheels.
Jeep Scrambler 392 Concept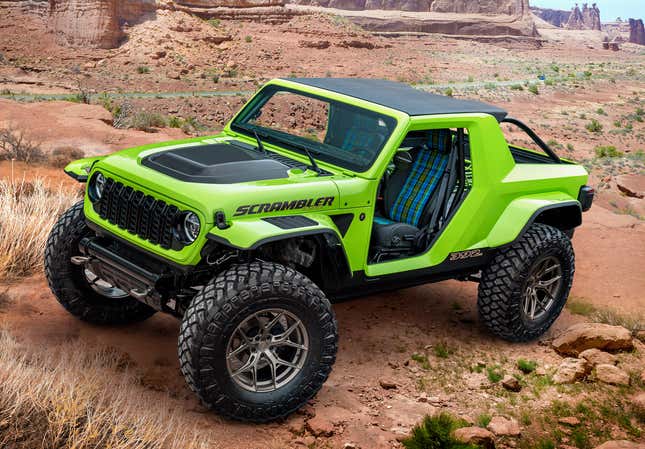 Similar to the Magneto concept, but strikingly different as well, the Scrambler 392 is a modern take on the CJ-8 Scrambler, a short-bed pickup built from the Wrangler's grandaddy. This version packs a 6.4-liter Hemi V8 and bodywork that began as a four-door Wrangler Rubicon.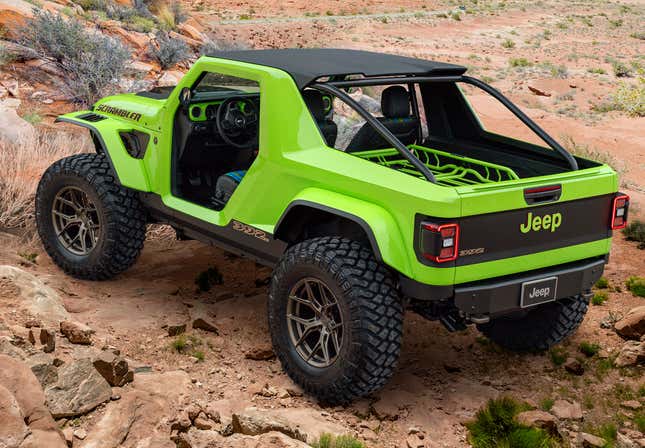 AccuAir air suspension adjusts the ride height from 1.5 inches over stock to 5.5 inches, and the rear offers an open-air pickup bed with the tailgate from a Jeep Gladiator. Like Magneto, the Scrambler 392 rides on 40-inch tires wrapped around 20-inch rims.

1978 Jeep Cherokee 4xe Concept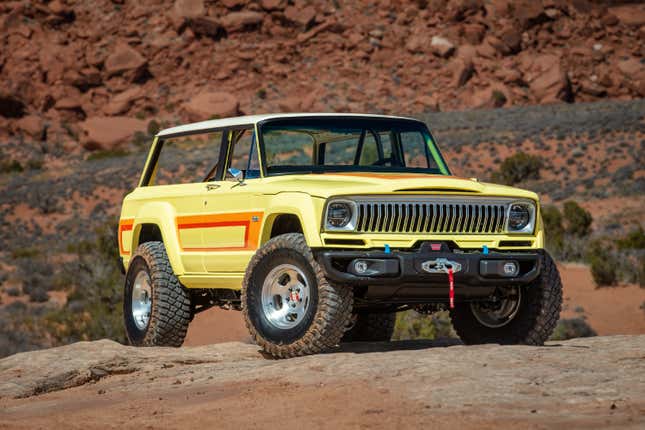 This is always my favorite part of Jeep's annual EJS concept showcase: When the company takes a vintage Jeep body and drapes it over a modern Wrangler chassis to create something amazing. This year, Jeep found a 1978 Cherokee (which at the time was a two-door version of the Wagoneer) and stretched and tweaked the bodywork to fit on top of a 2022 Wrangler Rubicon 4xe frame. Yep, this full-size Jeep is a plug-in hybrid, with a 2.0-liter turbo four-cylinder backed by battery power for an additional boost.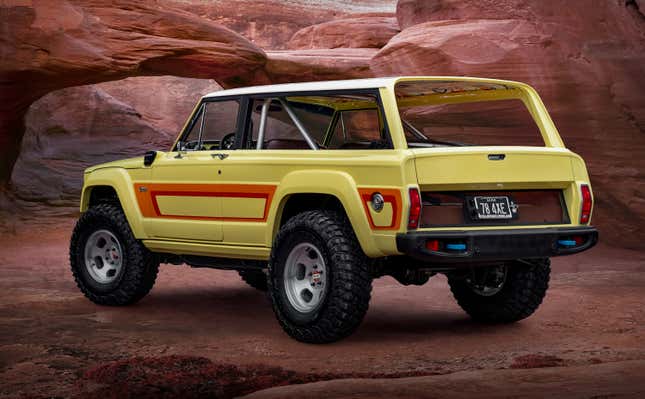 I mean, look at this thing. From the orange and red stripes to the slotted five-spoke wheels, it's delightfully vintage and modern at the same time. You gotta see the interior, too: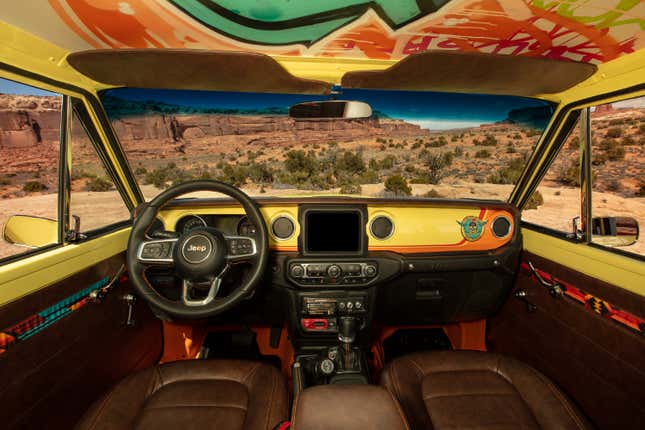 Jeep has an advantage when it comes to building restomods like this: A brand-new JL-generation Wrangler is constructed in basically the same way as this '70s SJ, with a ladder frame and solid axles front and rear. Throwing a historic body on a modern chassis has become a tradition for EJS, and I for one adore it.
Jeep Wrangler Rubicon 4xe Concept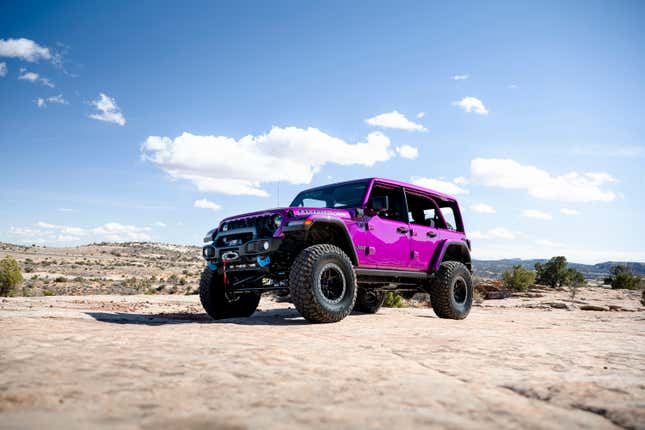 The big thing about this "concept" is that it's purple. Back in 2021, Jeep debuted a one-year-only purple-pink paint color called Tuscadero that proved way more popular than the company expected. This year... well, I'll just quote Jeep's press release: "the Jeep design team decided to up the ante on this head-turning chromatic magenta color. The team drew a line in the Moab sand and decided it was time to flip the color's perception and make it a lot tougher than expected."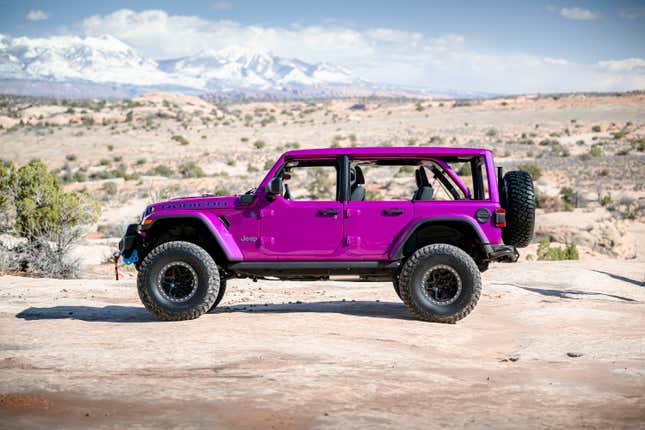 So yeah. It's purple. I really dig this color. No word on whether Jeep will offer this paint on production Wranglers. I say go for it.
Jeep Grand Wagoneer Overland Concept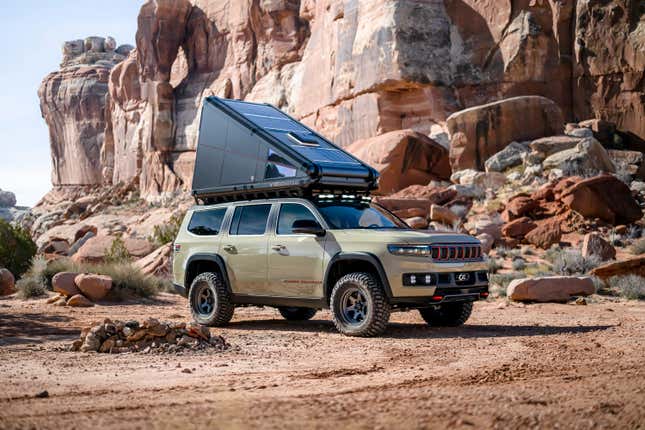 Hey look, it's a Van Life Wagoneer! The big news here is the custom RedTail Overland Skyloft rooftop tent, made of carbon fiber and light enough to open with one hand, Jeep says. But there's more to this concept than the tent: Jeep took out the second and third row of seats and removed the glass in the rear-most portion of the Wagoneer's panoramic sunroof to create a sealed pass-through between the SUV and the tent. The cargo area is coated in truck bed liner and decked out like a millennial's living room, with bean bag chairs and ambient lighting.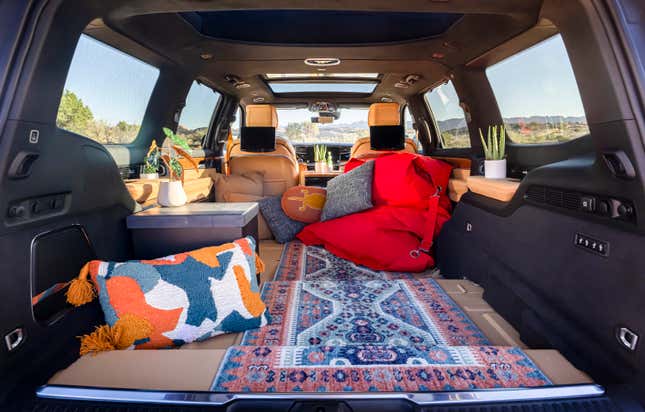 But of course, the big news is upstairs: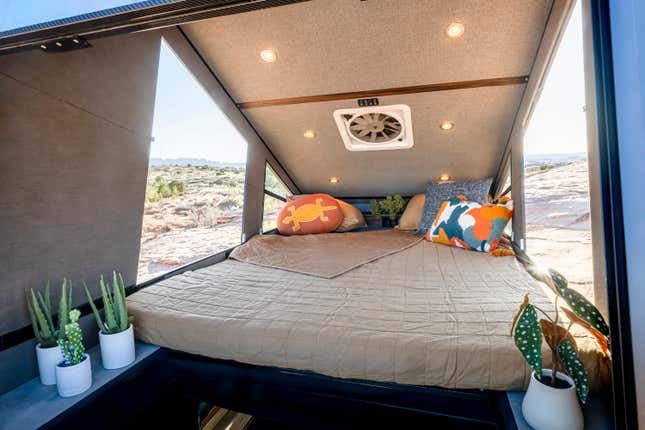 Jeep calls the paint color on this thing "Industrial Green," and a Warn winch, 35-inch tires, and altered front and rear bumpers for more clearance mean this thing might have half a chance of keeping up with a Wrangler on the trails.
Jeep Wrangler Rubicon 4xe Departure Concept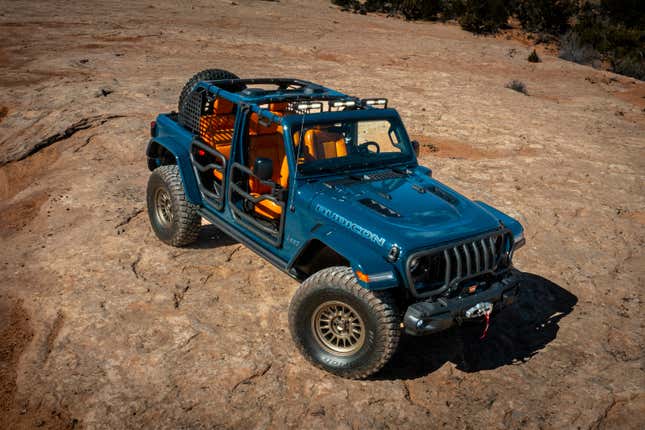 Now we're moving into the more real-world concepts. Departure was built to showcase a bunch of stuff from the Jeep Performance Parts catalog, including a fold-down front grille guard, high-clearance spare tire mount (which improves the rig's departure angle, hence the name of this concept), high-clearance fender flares with DOT-required lighting, and a concept light bar on top of the windshield.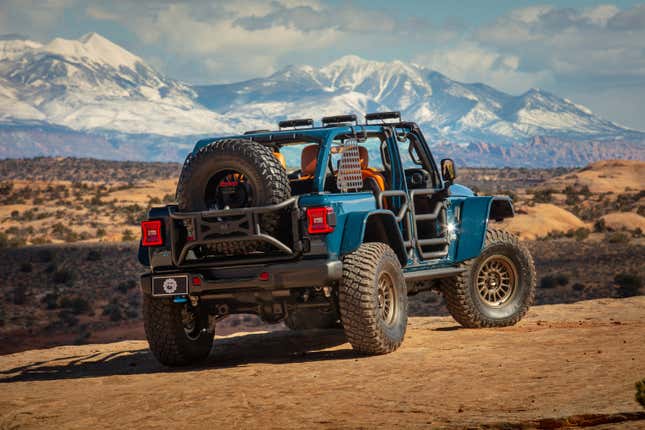 More stuff! The tube doors come from Jeep Performance Parts, and take a closer look at that spare tire carrier. It replaces the tailgate and can be configured in two ways: With the spare facing inward, you get maximum departure clearance, and with the spare flipped facing out, it acts as a bed extender for more cargo space. Nifty!
Jeep Gladiator Rubicon Sideburn Concept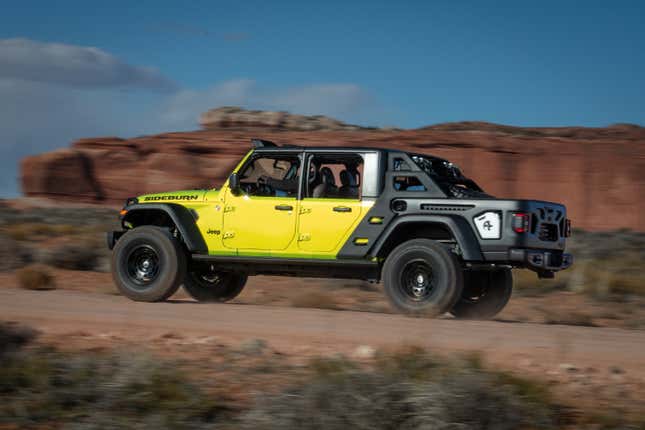 They call it "Sideburn" for the anodized black steps behind the rear doors. This Gladiator has a JPP 2-inch lift kit, 37-inch tires, the same fold-down grille bar seen on the Departure concept (which Jeep says you can use as a bench when it's folded down), a winch, a bunch of auxiliary lights, and custom storage solutions for the bed.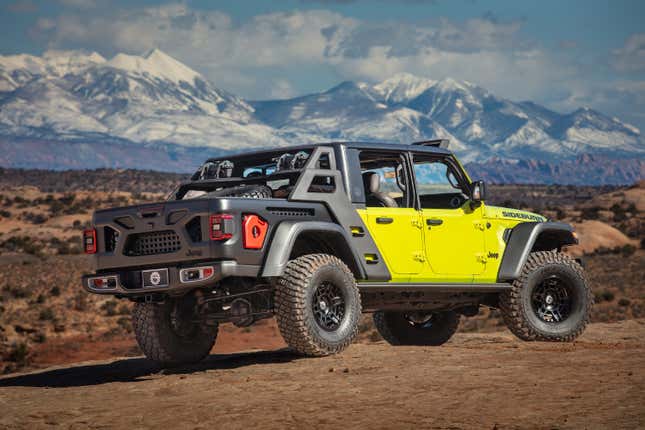 Check out the Jerry cans molded into the bed sides, and the Molle panels for even more storage.
Easter Jeep Safari kicks off on April 1 and runs through April 9. If you're going to Moab, check out these Jeep concepts while you're there!